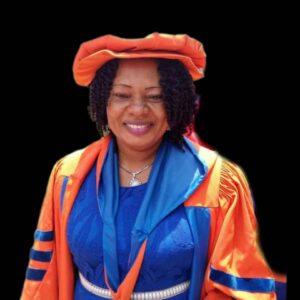 Dr. Ebele Veronica Ojukwu (PhD) is an accomplished academic and Associate Professor of Music Pedagogy at the Department of Music, Nnamdi Azikiwe University in Awka, Nigeria. She holds degrees from the Universities of Nigeria, Nsukka and Nnamdi Azikiwe University, Awka.
With a focus on music education, Dr. Ojukwu has made significant contributions to the field through her extensive research and publications. She has authored over 60 articles in various esteemed national and international journals, showcasing her expertise and dedication to advancing knowledge in the realm of music pedagogy.
Dr. Ojukwu's commitment to professional development is evident in her active membership in several esteemed organizations. She is a member of the Association of Nigerian Musicologists (ANIM), the Society of Music Educators of Nigeria (SOMEN), the Pan African Society for Musical Arts Education (PASMAE), and the Teachers Registration Council of Nigeria (TRC). These affiliations demonstrate her involvement in the wider music education community and her dedication to fostering collaboration and growth within the field.
Recognized for her outstanding contributions, Dr. Ojukwu has been honored as a Fellow of the Institute of Policy Management Development (IPMD), further highlighting her expertise and leadership in her field. She has also served as an editor for numerous books and held positions on the editorial boards of esteemed journals, underscoring her commitment to academic scholarship and knowledge dissemination.
In her current roles, Dr. Ojukwu serves as the Postgraduate (PG) Coordinator of the Department of Music and the Deputy Director of the School of General Studies at Nnamdi Azikiwe University, Awka. These positions allow her to make a significant impact on both the academic and administrative aspects of her institution.
Dr. Ebele Veronica Ojukwu's area of research interest, music education, demonstrates her passion for enhancing teaching and learning experiences in music. Through her scholarly contributions, professional affiliations, and administrative roles, she continues to shape and influence the field of music pedagogy in Nigeria and beyond.