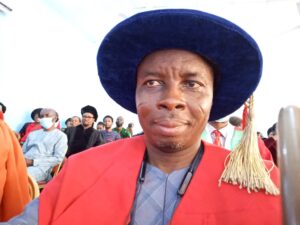 Prof. Alex Chinwuba Asigbo, fsonta, facls, fcai, mnal
Director, School of General Studies
Alex Chinwuba Asigbo is a Professor of Theatre and Performance Studies at the Nnamdi Azikiwe University, Awka.
He's an Actor Trainer, Playwright, Director and Culture Consultant.
He was Dean, Faculty of Arts, 2012-2014; Director, Centre for Arts, Culture and Humanities, 2014-2019.
Director, TETFUND, 2016-2019;
Head, Department of Theatre and Film Studies, 2017-2019.
He was equally the South East Zonal Coordinator for Abuja Carnival, 2009-2011.
He was elected President, Society of Nigeria Theatre Artists, SONTA in 2017 and handed over in 2021.
He's a Post Doctoral Fellow, American Council of Learned Societies, 2010; Fellow, Society of Nigeria Theatre Artists, 2017 among others.
He delivered his Inaugural Lecture on the 12th of February, 2013. He's widely published in both local and international journals.